Your Favorite Styles Without the Big Price Tags!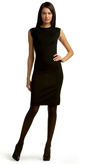 Come on ladies, dig in your closets. I'm sure you must have a few things that you don't wear anymore and would love some of your hard earned cash back for that jacket you "just had to have". Or, you need to add a few new things to your wardrobe, but don't want to pay those high prices at your favorite Boutique Store or Better Department Store. You're going to a wedding, or that office party and you need something new to wear. Maybe an LBD…Little Black Dress, or a velveteen jacket to dress up your jeans. Maybe a new winter coat is not in the budget this year. What if I told you we can take care of all these things in one place?
At STYLE UNLIMITED, your style has no limits! With a knowledgeable staff to guide you through our racks of gently worn clothing, shoes and accessories from all your favorite Specialty Stores, Better Department Store Designers and favorite Mail Order Catalogs, we'll have you looking like a million bucks at a fraction of what you'd pay retail! All your friends will be asking you "where did you get that great coat?" I won't tell. It can be our little secret, but you'll be so excited that you'll want to share your new place to shop with your friends and family. We're counting on it!
So, I hope you'll take this as an invitation to stop by and see what we're all about. Load up your car…we'll leave a light on for you!

I hope to see all of my old DIANTHUS, Ltd. friends VERY SOON!!!
Diane Corcoran
Owner, STYLE UNLIMITED
P.S. You will also be able to order your Curtains and Accessories here in the store.
Bring your Measurements!

Kind Words:
I Looked Like a Million Bucks! I found the greatest outfit last week for my upcoming sales presentation. Diane helped me find a pair of shoes and a bag to match! I looked like a million bucks at the meeting. The way I looked played a HUGE factor in how I felt that day... I know it helped! Thanks so much!
-Christina D., Kingston, MA
Fashion

Fades




STYLE

is

ETERNAL